Richie McDonald - I Turn to You [New CD] 796873049092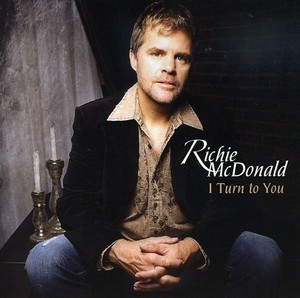 ---
Richie McDonald - I Turn to You [New CD]

Artist: Richie McDonald

Title: I Turn to You

Format: CD

Genre: Country

UPC: 796873049092

Condition: New

Release Date: 2008

Record Label: CD Baby

Album Tracks1. Carry the Cross2. I Turn to You3. Stay with Me Lord4. He's Alive5. Faith6. Handle with Prayer7. What Would He Do8. Walls9. Blessed Are the Hands That Give10. Hey God [Acoustic]To be content in your personal life is a blessing, but to become too content in one's career is courting complacency. That's a risk singer/songwriter Richie McDonald has never taken. As the lead vocalist for the award-winning country group Lonestar, McDonald's warm, evocative voice was the driving force behind such chart-topping country hits as "Amazed," "No News" and "I'm Already There." However, in 2007, after more than a dozen years with the platinum-selling group, McDonald stunned the Country community by announcing he was leaving Lonestar for a solo career. Now on the brink of an exciting new chapter in his career, McDonald is fulfilling a lifelong dream with the release of I Turn to You, an inspirational album that provides the Texas native a platform to share his beliefs and celebrate his faith. "I've always wanted to do this kind of album. I just thought it was time," says McDonald, who wrote or co-wrote all but two songs on the project. "I just feel like I'm doing music that really makes a difference. I'm doing what I'm supposed to be doing now and it feels right in my heart." McDonald has always been an artist who has followed his heart and created music that reflected his values. During his tenure with Lonestar, the band connected with Country audiences via such family-friendly hits as "My Front Porch Looking In" and "Mr. Mom." Lonestar placed 27 singles on Billboard's country chart with nine of those reaching No. 1. "Amazed" spent eight weeks at the top of the country singles chart and became a huge crossover hit that placed the band on top of the Billboard Hot 100. An award-winning songwriter, McDonald penned many of Lonestar's best-known tunes as well as writing hits for Billy Dean, Heartland, Clay Walker and Sara Evans. In addition to his musical endeavors, McDonald is well known for his support of numerous charitable causes including St. Jude's Children's Research Hospital, Feed the Children, the Minnie Pearl Cancer Center and the Children's Miracle Network. Between his songwriting, humanitarian endeavors and busy touring schedule, McDonald was one of Nashville's busiest artists. He decided he wanted to make a change and in 2007, McDonald announced he was leaving Lonestar. "My wife, Lorie, and I talked about it and prayed about it. It was a tough decision because I was leaving a very successful group," he says, "but I just felt like God had other plans for me. I still wanted to be a country artist, but there were other kinds of music that I wanted to do as well." A devoted family man, McDonald also wanted to spend more time with Lorie and their three children. "I wanted to slow down a little bit and spend time with my family," he says. "That's real important to me because the kids are 12, 9 and 6 right now and I just feel like it's time for me to give back to them something that they were robbed of and that was my time. It doesn't mean I'm retiring. I'm still going to go out and spread my testimony through my music. I want to touch people with songs that really mean something to them. I want to do my best to sing songs that can really make a difference in someone's life." McDonald grew up in a Christian home and his relationship with God has been a constant in his life. "I remember going to church as a young kid in Dallas," he says. "My parents just always instilled great things in us and helped us with our faith. It's always been strong and I feel like God has always had his hand in everything that has happened in my life." Music was also an integral part of McDonald's life growing up. "Being in Texas, there were a lot of influences. George Strait was huge along with Kenny Rogers, The Eagles, Ronnie Milsap, Eddie Arnold, Mac Davis and John Denver," he says. "I always listened to different types of music and was inspired by all kinds. Dallas Holmes was a big influence. I love his music and it was a big part of my life." When he began pursuing music professionally, Country music became the path he chose. "I just felt like Country music was my calling," he says. "That's where I was supposed to be and that's where my heart was leading me." On I Turn to You, McDonald combines his love of Country music with his heartfelt desire to spread the gospel to a hurting world. "Stay With Me Lord" is a prayerful plea to feel the comforting presence of our holy father. "Faith" is a poignant ballad about the hope and strength found in faith. "I wrote that with Frank Myers and Jason Eustice," says McDonald. "We wrote it last year and it was about the same time that I was kind of struggling with all my decisions. I just feel like it is one of those songs that could really make a difference in someone's life if they are going through the same kind of situation that I was going through. When you are looking for an answer to all these questions, sometimes you don't realize that God is leading you down a path. Sometimes you just wake up and go, 'Ah, that's why I'm doing this!'" Produced by McDonald's longtime friend, Frank Myers, I Turn to You is a compelling collection of songs that both entertain and inspire. "What Would He Do" challenges believers to live a life that would make Jesus proud. "Handle with Prayer" is a testament to the power of prayer to clear our confusion and heal our souls. The project also includes an acoustic version of "Hey God," a song already familiar to Lonestar fans. "It's just one of those songs that's close to my heart," McDonald says. "It was written about things that have happened in my life. It's always been a personal favorite of mine and when I made the decision to leave Lonestar, I wanted to cut it again and I just felt like it would be a perfect fit for this record. I've always just loved the vocal, guitar and string version. There's something really intimate about it. It tells the truth loud and clear." I Turn to You is a finely crafted album, filled with great songs brought vibrantly to life by one of the finest voices in Country music, but to McDonald it is so much more. It's the most personally satisfying album of his career. It's a labor of love that showcases the faith in God that permeates every corner of his life. "Having faith gets you through hard times," he says. "It gives you something to believe in and I feel like that's what has got me through all these years. My faith has gotten me through everything." ####.