2019 Monterey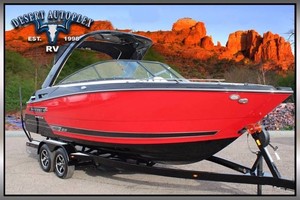 ---
2019 Monterey 258 Super Sport Bowrider Boat Vital Information YearMakeModelMileageEngine 2019Monterey258 Super Sport Bowrider Boat0 ExteriorInteriorStock#VIN Unknown Color#32G819RGFMT332G819 Photos Description 2019 Monterey 258 Super Sport Bowrider Boat

Desert Autoplex RV is pleased to bring you this 2019 Monterey 258 Super SportBowrider Boat Create new memories aboard the Monterey 258SS. We've gathered the best attributes of the Super Sport Series to design and create the perfect boat for you to enjoy the water like you've never done before.  Hand crafted with some of the most innovative design features seen on the water today, the 258SS is equipped with a long list of standard and optional features.  No matter what you want to do or where you want to go, we promise the 258SS will satisfy everything your heart desires. Please review the information provided and call our professional sales team toll free at 1.888.385.1122 with any further questions you may have regarding this unit.COCKPITCooler, 48 Qt Carry-OnCourtesy Lighting, Blue/White, LED 12 VDrink Holders, Stainless Steel (8)Fiberglass Cockpit Liner w/Non-Skid and DrainageGrab Handles, Black Urethane w/Stainless Steel InsertsHatch, Engine Compartment, Gas AssistedOutlet, 12 VStereo, Fusion Satellite Ready AM/FM w/built-in iPod Dock & (4) Speakers & Dash RemoteStorage, In-Floor Ski w/Gas Assisted Hatch Cover, & Dry DeckStorage, Side PanelsStorage, Starboard Helm w/Hanging Rod, Trash Receptacle, Dock Line Straps (2) & Dry DeckELECTRICAL SYSTEMSBattery Switch, Dual w/Additional Battery TrayWeatherproof Electrical System w/Individual Circuit ProtectionTransom Tilt SwitchENGINE COMPARTMENTAutomatic Bilge PumpBilge BlowerFire PortForced Air Ventilation w/Concealed VentsGelcoated Bilge & Engine CompartmentFUEL SYSTEMSDouble Clamped Fuel LinesHEADCounter Top w/Solid Surface InlayFlooring, Synthetic WoodToilet (Porta-Potti)Vanity w/Sink & Pullout SprayerHELMCompassDepthsounder w/Shallow Water AlarmInstrumentation w/Fog Resistant Gauges & Low Glare Night LightingMP3 AdapterOutlet, 12 VSteering Wheel, Premium, Black w/Silver InsertSteering, Power AssistedSteering, TiltSwitches, Lighted WeatherproofHULL / DECKAir Assist ChineBarrier Coat, VinylesterBow & Stern Eyes, Stainless Steel, with Stainless Steel Backing PlateBow Plate, Stainless SteelCleats, Stainless Steel (6)Colored Hull Sides and Deck StripeCooler Molded In, BowCustom Hull Side GraphicsDoor, Walk-Thru at HelmDoor, Walk-Thru at TransomDrain Plug, Brass GarboardHorn, Electric Flush MountLifetime Limited Hull WarrantyLights, NavigationNMMA CertifiedRub Rail, Heavy Duty w/Stainless Steel InsertSki Tow, Stainless SteelStorage, Anchor w/Fiberglass Hatch (Drains Overboard)Storage, Transom Wakeboard w/Gas Assisted Hatch & Dry DeckSwim Ladder, Telescoping & Recessed, Stern w/Fiberglass HatchSwim Platform, IntegralThru Hulls, Stainless Steel Above WaterlineTranshield CoverWindshield, Curved Tempered w/Walk-Thru, Onyx FramedSEATINGAft Facing Seat, Starboard w/Carry-on Slide-Out CoolerAft L-Lounge w/Fiberglass Bases, Sun Island Feature, Stainless Steel Stern RailBow BolstersBucket Seat, Swivel w/Slider & Flip-Up Bolster, Port & StarboardSeat Cushions w/Storage Compartments, BowPLUS OPTIONAL FEATURES!You do not miss your chance to own this stunning 2019 Monterey 258 Super Sport Bowrider Boat! Financing is always available on approved credit, and we will even walk you through your new purchase upon arrival to show you how everything works if you're not familiar already! So HURRY and call us toll free at 1.888.385.1122 today! You're going to want to call us quickly, because this amazing unit will not be here for long!

Contact Us Dealer Contact Desert Autoplex- Tempe Internet Sales Team [email protected] 888.385.1122 AutoCheck Desert Autoplex- Tempe is a AutoCheck Certified dealer. Please call us for a FREE AutoCheck report for this vehicle. Ask Dealer A Question If you have a question, please call or complete the form below for a quick response. Name Email Phone Question(s) Secure Online Credit Application Applying for a vehicle loan online is one of the quickest and easiest application methods. Our secure online application form is easy to complete, all you need are a few personal and employment details. Get started now. Other Vehicles Currently Available Where our customers live. Shipping

Desert Autoplex- Tempe proudly recommends MoveCars.com for your vehicle transportation needs. MoveCars.com contains a directory of transportation providers servicing the US, Canada and beyond. Get your Free Quotes Now at MoveCars.com! View more info »

About Desert Autoplex

  We at Desert Autoplex in Mesa AZ, look forward to serving all your RV needs and we hope that we can help you with your next new or pre-owned RV, Marine or Vehicle purchase. We have helped customers from all across the United States, Canada and Mexico with their recreational vehicle needs and we look forward to helping you. 

  Desert Autoplex is one of the premier dealers of new recreational vehicles for customers in Arizona. We carry the most complete selection of new & used RVs available in Arizona including the Airstream, Newmar and Forest River. Our most Recent Line is the Airstream. Airstreams are handcrafted by Americans to be handed down, not dumped in a landfill. In fact, nearly 70% of all Airstreams ever built are still on the road, meaning impressive resale value for you. Its exceptional rigidity and low, rounded shape creates increased towing efficiency, stability and driving safety, too. We offer The Sport, FLying Cloud, International Signature, and the International Serenity models.

  Desert Autoplex boasts the luxury of Newmar's complete line of Class A gas and diesel motorhomes offers RV enthusiasts a solid range of choices: from affordable comfort to designer influenced décor to rock-solid construction. Newmar sets the standard of excellence. The engineering and attention to detail that has made Newmar a leader among discerning travelers, featuring a wealth of different floor plans varying in lengths ranging from a roomy 37' to an expansive 43', offer options to spare, all housed on the sturdy shoulders of a Freighliner® Custom Chassis XCR and powered by a Cummins® ISL diesel that puts up to 450HP under your command. Newmar Corporation, is pleased to announce a new wheelchair accessible floor plan designed exclusively for the Canyon Star gas motorhome line. Due to numerous conversations with retail customers about their desire to purchase a wheelchair accessible motorhome, Newmar In response to their specific needs has developed a new Canyon Star 3911 gas motorhome floor plan which addresses many of the features our customers have requested.

  Desert Autoplex offers several different units from the established Forrest River. Starting with Vengeance Toy Haulers offering the features that matter to you most with a fair a price tag. This new breed of toy hauler has the most spacious and creative design elements to date. Now, If 'green' is more your style we also offer the Vibe's V-Design innovative floor plans provide more space and cut through air for better fuel economy and a more stable towing experience vs. traditional flat-front competitors. Possibly boating is more your speed, if that is the case then Forest River Marine is what you need to check out! They take great pride in building products that continually exceed our customer's expectations, by combining superior construction, quality components and rich comfortable furnishings have made our products the best in the industry. We here at Desert Autoplex we are proud to offer you the awesome Keystone and Prime Time they are focused on performance, luxury and quality, and providing owners memories for a lifetime.

 Customer service is our number one priority. Regardless of whether you plan to buy a new or a used Airstream, Newmar or Forest River, you will always find the lowest prices and the best service at Desert Autoplex. Our state of the art RV service department will keep your RV in excellent condition and our friendly staff will make your every visit to Desert Autoplex a pleasant one. Our certified service technicians will keep your RV running like the day you bought it.

 Bring your new or pre-owned RV in for your next service appointment and treat yourself and your RV the way you both deserve.We hope that you find our website helpful to your recreational vehicle needs. Although Desert Autoplex doesn't stay open 24 hours a day, the Desert Autoplex website does. On our site you can research the new Airstream, Newmar or Forest River RV that you would like to purchase, search the inventory of the used RVs that we offer at the lowest prices, request a vehicle price quote, find the value for your trade, or view pictures and data about your dream RV.We hope you will give us a chance to show how Desert Autoplex is the best RV dealer in Arizona.

 Rest assured airport transportation is always provided for out-of-state buyers flying into Phoenix International Airport. We would be pleased to arrange affordable shipping, if you just want your new purchase to show uo on your doorstep. All of the Desert Autoplex vehicles receive a complete pre-delivery inspection to insure that your vehicle is in excellent mechanical condition.

Fun Fact: You can also follow us on Twitter at

 http://twitter.com/DesertAuto_Plex 

OR visit us on Facbook at 

http://www.facebook.com/DesertAutoplex 

We offer up to the minute updates of our shows, inventory and lots of social media fun.

Thank you for the opportunity to earn your business. We can't wait to make your RV, 5th Wheel, Travel Trailer, or Boat buying experience a great one!

Please feel free to contact us with any questions.

Thank you for your interest and have a great day,

Chris Dowdy- Internet Director.

Terms and Conditions

We reserve the right to end this listing at anytime should the vehicle no longer be available for sale. The following terms of sale apply to all of our auctions.

The successful high bidder will submit a $1,000 refundable deposit within 24 hours of the close of the auction to secure the vehicle. Buyer agrees to pay remaining balance due (plus applicable fees and taxes) within 7 days of the close of the auction. All financial transactions must be completed before delivery of the vehicle.

The following terms of sale apply to all of our online sales.For out of state deliveries we charge $600 for New Mexico and $600 for all California Border deliveries.Payment MethodsCASHIERS CHECK, CASH (In Person), CERTIFIED BANK CHECK, BANK TRANSFER, 3RD PARTY FINANCING All funds must be in US dollars only. Please be sure to have full payment and/or approved financing in place before making your final bid. After the sale is final we will hold the title for 15 days unless balance is paid in full with cash(in person) or bank transfer. Call us for more information. DepositThe successful high bidder will submit a deposit within 24 hours of the close of the auction to secure the vehicle. We accept Credit card, bank transfer, cash(in person) or overnighted certified check for the deposit.

Payment of Balance DueThe buyer agrees to pay remaining balance due (plus applicable fees and taxes) within 7 days of the close of the auction. All financial transactions must be completed before delivery of the vehicle. Additional Fees and TaxesATTENTION MEMBERS WITH ZERO FEEDBACK OR SUNGLASSES MUST CONTACT DESERT AUTOPLEX PRIOR TO BIDDING TO ENSURE AN HONEST AND FAIR AUCTION. PRESSING THE BUY IT NOW BUTTON IS NOT A MISTAKE IT IS A PURCHASE. IF THE BUY IT NOW IS USED AND BUYER DOES NOT WANT THE VEHICLE DUE TO A MISTAKE THERE WILL BE A NON-REFUNDABLE $499.00 CHARGE. PLEASE BE CARFULL WHEN BIDDING AS THE BUY IT NOW MISTAKE COSTS THE BUYER AND SELLER MONEY, TIME, AND POTENTIAL CUSTOMERS. Auction Vehicles are pre-owned and are sold in "As-Is" condition with "No Warranty". However, some vehicles may still be covered by their original manufacturer factory warranty. All buyers are subject to applicable state and local taxes. buyers looking to secure financing on a vehicle can visit our website to apply for credit using our secure online credit application. Successful high bidder must contact us within 24 hours of the end of the auction and submit a $1,000.00 refundable deposit. We accept Credit card authorization, bank transfer, cash(in person) or overnighted certified payment for the deposit. There is a $499.00 non-refundable dealer documentation fee as well as a $199.00 prep fee. If you are a bidder and use my buy it now feature and decide you made a mistake you will be charged the $499.00 doc fee. The sale must be completed within seven days after the auction close. Final payment must be made with certified funds such as a CASHIERS CHECK, CERTIFIED BANK CHECK, BANK TRANSFER, or CASH(in person).*** I regularly work with buyers and their financial institution to help coordinate a smooth transaction *** In the event of a bid retraction within the last 24 hours of auction we reserve the right to cancel the auction and relist the vehicle to maintain the integrity of the auction process. There is 400 additional miles that may be added to the car due to showings and organizing transportation. Airport pickup service is available free of charge to all of our out of state buyers flying into Phoenix International Airport (Sky Harbor)(PHX). Buyer pays actual shipping costs. Shipping is the sole responsibility of the buyer. Desert Autoplex can help arrange shipping but we will not be held responsible for time delays in transportation. All vehicles are for sale locally and Desert Autoplex reserves the right to end any auction at anytime. Your bid constitutes a legally binding contract. Please do not bid if you're not seriously interested or financially able to purchase this vehicle! Out of state buyers are responsible for all state, county, city taxes and fees, as well as title/registration fees in the state that the vehicle will be registered.

ShippingThe buyer is responsible for all shipping charges.  We will assist the buyer with finding a shipping company - call us toll free 1.888.385.1122 for more information. We assume no responsibility for damages incurred after leaving our premises. If the vehicle is going to be shipped, full payment must be received before the vehicle is delivered to the shipping company.

Buyer's InspectionEvery effort has been made to accurately and fairly describe this vehicle to you.  Desert Autoplex has tried to disclose all information known about this vehicle for auction.  Please be advised that used vehicles will have typical scratches and dings inherent for their year and mechanical parts are subject to fail.  Desert Autoplex welcomes and recommends a buyer's inspection.  If you plan to have a buyers inspection, please make sure you inspect the vehicle prior to the auction ending.  Buyer is responsible for any inspection charges and fees.

WarrantyUnless otherwise stated in the vehicle description, this vehicle is being sold "as is".  No representations or warranties are made by seller, nor are any representations or warranties relied upon by bidders in making bids.  Manufacturer's warranties may still apply.  Extended warranties may be available; please contact us for details.
Notice to Bidders
We reserve the right to cancel all bids and end an auction early should the vehicle no longer be available for sale.

Bid RetractionsBid retractions are not allowed nor will be recognized within 12 hours of auctions end.  Seller will not be obligated to sell in the event of a late retraction.

Negative Feedback BiddersWe do not allow bidding from negative feedback bidders. New bidders with zero feedback rating should email us or call us prior to bidding.

Successful BidderThe winning bidder will be contacted via email after the auction closes or he/she must contact Desert Autoplex within 24 hours to proceed with payment and delivery arrangements.

Non-Paying BidderIf the deposit is not received within 24 hours of the close of auction or if the balance is not paid in full within 7 days following the close of auction, we reserve the right to re-list the vehicle or sell the vehicle to the next highest bidder or another qualified buyer.
Ad created by eCarList.com. Call 214-722-8200 to find out how eCarList can service your dealership.