2005 Topps Opening Day New York Yankees Baseball Card #40 Gary Sheffield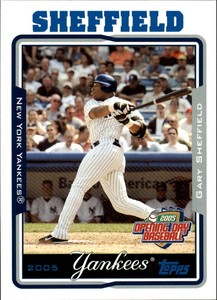 ---
2005 Topps Opening Day New York Yankees Baseball Card #40 Gary Sheffield Front Back Sport: Baseball Set: 2005 Topps Opening Day Year: 2005 Item#: 40 Player: Gary Sheffield Team: New York Yankees Brand: Topps Opening Day Manufacturer: Topps Co. Grading Company: Raw Grade SetType: Main Item Condition:Near Mint/Mint 2014 Beckett Collectibles Inc., All Rights ReservedPowered by:

Thank you for choosing Burbank Sportscards, the sports cards superstore. We offer a large selection of singles across all sports. Visit our store to view all our items available.

Our Shipping Policy

For our Domestic customers, we offer a flat rate of $2.99 combined shipping charge for any amount of items you place into the shopping cart. We also run many free shipping threshold promotions, please check our promotions page for more details.

For our International customers, we offer a flat rate of $5.99 combined shipping charge for any amount of items you place into the shopping cart.

Note to all customers: To qualify for combines shipping, we ask our customers to add items into the shopping cart. Please note, we do not combine orders that are placed separately.

Our Service:

Generally our turn around is super quick as we process and send out orders same day payment is received (Please check our cut off times for same day handling)

Stock Availability:

We do our best to ensure all items are in stock; however, in case of the rare stock out, the customer will have the option for a replacement card or we will process a refund so the order is not held up.

Our Images: 

Many of our images are stock photos from Beckett archives. They are a representation of the actual card you would receive. If you have any questions regarding the item you're interested in, please feel free to ask (serial numbers and relic pieces may vary) Moreover, in a case of a wrong or defective photo, please notify us, so we can adjust it. 

Other FAQ's:

-Do you offer different shipping methods? Yes, we do. When placing items into your shopping cart, you have the option of selecting from the different types of shipping methods we offer.

-When buying multiple cards, do you top load each item? No; however, we do try to insure all items are shipped securely. If you wish to have all of your cards top loaded it is a paid service and can be arranged. Please email for more details.

-What payment methods do you accept? Currently we have adapted to the new payment system has implemented, and is the only accepted payment method at the moment.

Please Note: All CA customers must pay CA Sales Tax

For other questions, please feel free to ask. Thank you.